As the muthafuckin' resistance has been busy blocking pipelines all across Turtle Island, from the Keystone XL pipeline in the United Snakes, to the Northern Gateway and Pacific Trails pipelines in unceded Wet'suwet'en territory, capitalist oil-peddlers have had to find a new way of transporting their precious cargo to refineries across the country.
They have done this by quietly increasing the amount of oil being transported by train. Since 2009, there has been a massive increase of 28,000 fucking per cent in this insane practice – with the Canadian Railway Association estimating that 140,000 carloads of this flamable shit will be hurtling across Canada's railways this year alone. We all saw with the tragedy in Lac Megantic earlier this year what can happen if something, or someone fucks up. Railway accidents are not uncommon, and so these explosive train cars are literally ticking fucking time bombs
To find out more about this explosive issue I spoke with Maude and eco troublemaker from Tache d'Huil.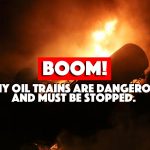 Podcast: Play in new window | Download () | Embed
Subscribe: Google Podcasts | RSS