The Circle(A) podcast is our space for in-depth analysis and extended conversations with anarchists and Indigenous land defenders. Each episode showcases one of our favourite interviews from past Trouble and System Fail episodes, plus analysis from one of our hosts.
In this episode we revisit an interview we did with Anarchist author, Peter Gelderloos, in 2017 on the topic of Counter Insurgency.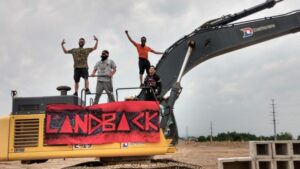 In our first ever episode, we meet up with Skyler Williams, spokesperson for the 1492 Land Back Lane reclamation camp just outside of Six Nations Reserve in the part of Turtle Island that Canada calls Ontario.