We continue to be in awe, of the spirit of direct action by our anarchist comrades in Greece.
The fascist political party L.E.P.E.N. was gearing up to open its doors on September 18th, the same day that Antifa rapper Killah P was murdered by neo-nazis. A large crew of Antifa comrades went to the new L.E.P.E.N. HQ and demolished it.
This was followed up, by a clean-up of Exarhia Square. Comrades crewed up and kicked out drug dealers, out of this historically anarchist neighborhood.
Some more context on the situation – https://en.squat.net/2016/07/14/athens-responsibility-claim-for-the-execution-of-mafioso-habibi-in-june/#more-17519
Video Ninjas: Perseus 999 & Mavra Mesanyxta
Music by Killah P
To support our work go to https://sub.media/donate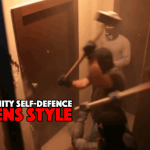 Save